Microsoft has updated the voicemail platform from Exchange UM Online (ExchUMO) to Cloud Voicemail (CVM) which utilizes the latest technology in the Microsoft Azure Cloud.
Some of the improvements that are available includes greater security, much more accurate voicemail transcription services (which is enabled for all users by default) and better voicemail referral response time for users leaving a message.
This change is only to regular user extensions that dial x3102. Department lines are not affected and you would continue to dial x3100 (or 916-568-3100 remotely) to manage greetings and check voicemail.
There are however some changes.
The way users check voicemail 

Users are no longer able to dial-in to check voicemail from any phone. All voicemail must be retrieved from authenticated devices/clients which includes Outlook, Skype for Business desktop and mobile apps and a district phone.
To check voicemail from a district phone, simply select the voicemail envelope button on an Audiocodes desk phone. If you are using a Polycom phone, select the Voicemail option using the navigation screen.

Message Waiting Indicator Light

The MWI light will be retired in the near future. We do not have an exact date at this time.

Play on Phone

The 'Play on Phone' button located in the Outlook client will no longer function and will eventually be removed. Users should use either their phone or Skype for Business client to playback voicemails.
Windows
In the Skype desktop client, users can navigate to the Phone tab to review voicemails, call voicemail and manage their greetings.
Note: If you are having trouble signing into your Skype for Business client or need how-to instructions, please refer to the Using Skype for Business Remotely guide.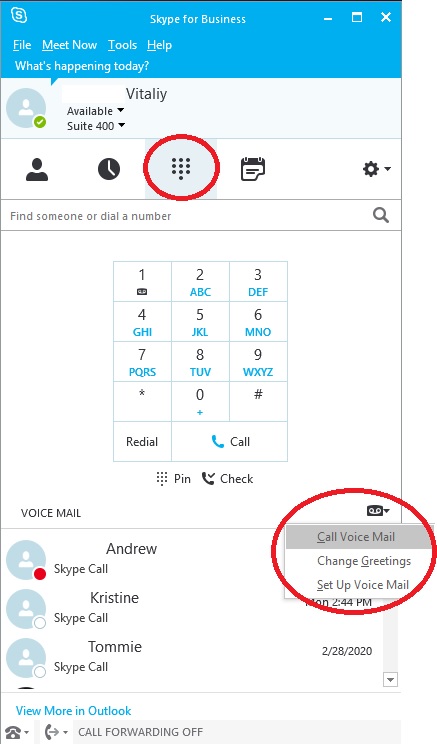 Mac (OSX)
To set your voicemail message on your Mac device
Open Skype for Business
In the Mac menu bar, select the Skype for Business, then select Preferences
Select Calls

Select Change Voicemail Greeting


Follow the voice prompts to set your voicemail greeting.