Overview
The purpose of this document is to provide an update of the Lync project bi-weekly. Sponsors, Project Leads, User Group members and related parties will receive a copy. We appreciate all the hard work and cooperation of everyone who has come into contact with Lync.
Information of Note
This is the inaugural edition to all parties
Lync kickoff meetings have been completed at ARC, SCC and FLC
DO, new construction at ARC and SacRT located at CRC have all been successfully migrated
EWC, WSAC, Davis, VAPA, CRC Presidents Office and El Dorado are slated for this summer.

This will complete the removal of Sphericall and allow us to support 2 systems
Police and FM are being worked into the schedule for early Fall adoption
We recommend a deployment of the Lync client for IM as soon as possible for each location.  The DO has released Lync everywhere except for Police which is pending.
Status Lync Migration
The purpose of this section is to describe the status of the various areas with respect to Lync.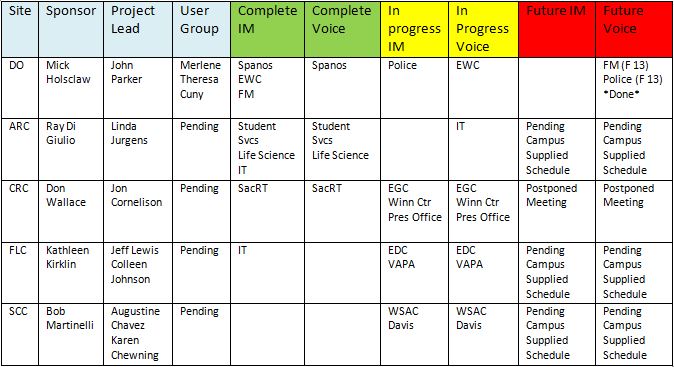 Lync Statistics
The purpose of this section is to depict the various Lync activity so that we can see the progress.